André Gide said "Que l'on parle bien quand on parle dans le désert!"…Wondering if this is French?
It sure is French! The above quote literally means "We are so eloquent, when we talk in the desert!" French is a beautiful language not because of fancy pronunciations of its words, but because of the people that speak it! When you meet a French speaker you immediately picture Paris and its coffee shops, the Eiffel tower or even the sweet smells of "La Provence"! So, don't shy away…let's learn some French!
As with learning any new language, the first few steps are always the most difficult. French, with its complex syntax and deformation of verbs proves the same for beginners. But, the effort to learning the language is well worth undertaking. We give you a three- fold plan to making this effort significantly simpler.
1. Go find…the right teacher!
Sounds fairly simple and nothing out of the ordinary, right! Not really, we haven't made our point yet. We learnt French in school and we know how boring it can be. If your teacher drills grammar into you the way we went through it, 'Welcome to hell' is all you are going to think when it comes to this language.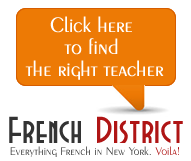 Find a teacher who focuses on making the learning process enjoyable, plays with French humor and makes light of the difficult language. If you enjoy what you hear (and French sure does sound good) and learn, it won't seem like a challenge. Remember Inspector Clouseau from Pink Panther going "Do you have a rgghum?"!
And, don't worry about getting everything right the first time around. Honestly, with all its complexity, probably less than a 1000 people in France speak absolutely perfect French! Believe it or not, the Académie Française has 40 members (The "Immortals"…) whose job is to edit the French dictionary, and even they argue intensely about what proper French is! You already have the American accent to your advantage. Speaking French (even incorrect) with an American accent works like a charm!
Ask us and we can give you referrals to get you started on your French language journey!
2. Go online…cyberspace has not-so-rude French people ready to chat with you
Facebook and other social networks give you the chance to interact with multitudes of people within your own comfort zone. Join online groups, chat with new people and Voila! The language is within your reach. Psst…We speak French, so come find us on Facebook.
We notice quirkiness faster than anything else. So, pick up the nuances of French from their music and videos. Check out "La Vie en Rose" from Edith Piaf, use YouTube or even better, tune into some French podcasts, so you can learn as you do something else.
3. Go real…have in-person social relations!
We often forget that we learn a language to speak to other human beings! Meet new people and immerse in their world.
French boyfriend or girlfriend– This has to be the best (and funniest) way to learn a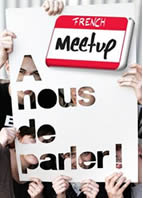 language. What's better? Hope, that he/she is not fluent in English. Then you can have an entirety of "Oui!" and "Merde" filling up your universe and not just the sweet-nothings of French (if you know what we mean).
Although, attending events is your best bet to practicing the language. With all the wine at French events, you sure will find yourself speaking the language with no fear. And, trust us to keep you updated on these French events in your neighborhood! Cheers!
A little "food for thought"…don't just learn the language, live it! Bonne Chance!
And for your laughs…