Whether for a romantic dinner or a casual meal with friends, French food is usually the occasion to taste unexpected and pleasant flavours. For French people, it is the occasion to remember the typical dishes of their region. Find below a list of French Restaurants in Miami et Key West to discover or re-discover the joy of "la cuisine française".
Florida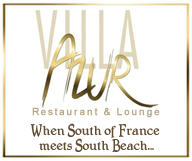 Villa Azur
3 french men have come together to create Villa Azur, a restaurant showcasing cuisine from the South of France and Italy in South Beach in an exceptional decor.
http://frenchdistrict.com/florida/adresse/villa-azur-miami-south-of-france-cuisine/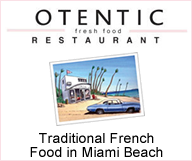 Otentic Fresh Food
Come and enjoy simple and good food at Otentic, in South Beach. They serve fresh products and their French recipes have already seduced a lot of regular customers. Be the next one!
http://frenchdistrict.com/florida/adresse/otentic-fresh-food-restaurant-french-miami-beach/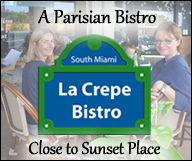 Le Crêpe Bistro
Just around Sunset Place in South Miami, La Crepe Bistro is a lovely little bistro that serves healthy French food. Open every day, La Crepe Bistro cooks delicious home made crepes, quiches, and sandwiches in a Parisian atmosphere.
http://frenchdistrict.com/florida/adresse/la-crepe-bistro-french-restaurant-south-miami/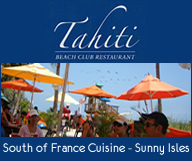 Tahiti Beach Club
Enjoy southern cuisine with an amazing view on the ocean at Tahiti Beach Club. This restaurant is the only one located right on the beach in Miami, and turns into a beach club to chill at on sunny afternoons.
http://frenchdistrict.com/florida/adresse/restaurant-tahiti-beach-club-sunny-isles-miami-beach/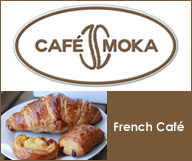 Café Moka
The smell of coffee is filling up the air, and you are just following it; right on Duval Street in Key West, Café Moka is a café-bakery that offers delicious coffees and tasty pastries.
http://frenchdistrict.com/florida/adresse/cafe-moka-bakery-french-key-west/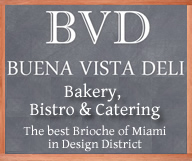 Buena Vista Deli and Bistro
In the heart of Design District, Buena Vista is a hotspot known for its fun, lively ambience and casual gourmet atmosphere…
http://frenchdistrict.com/florida/adresse/buena-vista-deli-bistro-brioche-miami-design-district/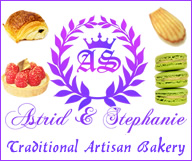 Astrid & Stephanie
Astrid & Stéphanie is a traditional artisan bakery and bistro, serving homemade pastries and French specialties. Bruno and Stéphanie opened their store in 2011, to share their love for French flavors and culture. This lovely pastry and bakery shop combines great taste and authenticity.
http://frenchdistrict.com/florida/adresse/bakery-miami-traditional-french-astrid-stephanie/