For its fourth edition, French Spice offers French cuisine lovers the opportunity to enjoy an authentic and affordable French menu. Some French restaurants in South Florida offer 2 or 3-course menus from October 24th to November 15th, 2013.
French District recommendations: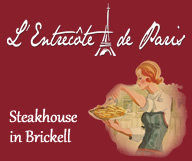 The authentic sauce recipe that furnishes all the famed entrecote dishes served at renowned restaurants known to all Parisians is brought to you at L'Entrecôte in Brickell. This steakhouse pays tribute to the succulent sliced entrecote, served with fries and covered with the Secret Sauce making it a delight for carnivores in Miami.
L'Entrecôte de Paris
1053 SE 1ST Avenue, Brickell Plaza
Miami, FL 33130
(305) 755-9995
The Menu:
Lunch, every day of the week $19
Cheese Plate
Salad
7oz Entrecôte executive with unlimited French Fries
Dinner, Monday to Thursday $33
Salad
9oz Entrecôte classique with unlimited French fries
Choice of Dessert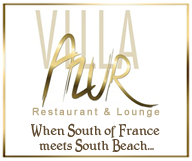 Jean-Philippe Bernard, Michael Martin and French actor Olivier Martinez have come together to create Villa Azur, a restaurant showcasing cuisine from the South of France and Italy in South Beach in an exceptional decor.
Villa Azur Miami
309 23rd Street
Miami Beach, FL 33139
305 763 8688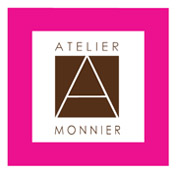 Pastries, Macarons, Cakes & Tarts, Ice Creams & Sorbets, Coffees, Chocolates, Sandwiches, Salads, Artisanal Breads, Fine Wines – enjoy our creations.
Atelier Monnier – Brickell Café
848 Brickell Avenue #120
Miami, FL 33131
(305) 456-5015
The Menu:
Breakfast $8.95
French Brioche Toast with berries & coulis, Fresh squeezed orange juice, Coffee
Lunch: 11:00 AM – 3:00 PM $9.95
Soup + 1/2 French + Sandwich of the Day + Macarons or truffles or petits- four
Lunch Regional Main Course, Monday to Friday: 11:00 – 3:00 PM $13.95
Glass of Wine + $5
A different wine from a different region every day, (from October 24th to November 1st):
Aperitif Platter $9.95
Glass of wine + a French Style Appetizer
Thursday to Friday: 6:00 PM – 8:30 PM
Through 6 French wines & 12 Treats (savory and sweet) $25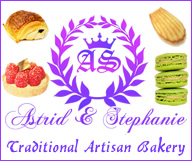 Astrid & Stéphanie is a traditional artisan bakery and bistro, serving homemade pastries and French specialties. Bruno and Stéphanie opened their store in 2011, to share their love for French flavors and culture. This lovely pastry and bakery shop combines great taste and authenticity.
Astrid & Stephanie
6772 Collins Avenue
Miami Beach, FL 33141
(305) 397-8680
The Menu:
Breakfast: 8:00 AM – 11:00 AM
American Coffee + 1 Croissant $2 
American Coffee, Eggs Benedict, 1 Croissant, 1 Pressed Orange Juice $12
Lunch: 11:00 AM – 2:00 PM
1 sandwich or Wrap or Croque Monsieur, 1 Glass of Côtes du Rhône or Rosé wine, 1 Espresso $12
Tea Time: 2:00 PM – 5:00 PM
1 Cappuccino or 1 Tea, 1 Pastry $7
Dinner: 5:00 PM – 9:00 PM
1 Garden Salad, 1 Cassoulet or 1 Boeuf Bourguignon, 1 Glass of Wine, 1 Espresso $19
All Day:
Glass of French Wine (Côtes du Rhone Rosé, Sancerre, Pouilly Fuissé, Lalande de Pomerol…) $4
Between the French culinary traditions and vibrant atmosphere at Miami Beach, welcome to La Gloutonnerie. Indulge in the refined and tasty creations of a passionate Chef made with fresh and natural ingredients and carefully selected wines.
La Gloutonnerie
81 Washington Avenue
Miami Beach, FL 33139
(305) 503-3811
Three Course Dinner Menu, Sunday to Thursday $39
Salade d'Endives au Bleu (Endive Salad with Walnut, Fresh Grapes, Gorgonzola) or Gratinée Lyonnaise (Traditional French Onion Soup)
Moules Frites (Mediterranean Mussels Perfumed with Chablis, Garlic Croutons) or Blanquette de Veau à L'ancienne, Riz Pilaf (Traditional Veal Stew, Mushroom, Glazed Pearl Onion, White Rice)
Crème Brûlée Vanille, Tuile aux Amandes (Vanilla Creme Brulee, Almond Tuile) or
Gâteau au Chocolat (Flourless Dark Chocolate Cake, Mascarpone Cream, Hazelnut Toffee)
Wine Selection
By the Glass $6
By the Bottle $20
Cote du Rhône Rouge, 2010
Famille Perrin Reserve, Blanc, 2012
Sparkling, Veuve de Vernay, Brut
Brut Rosé, Loire N.V.
Côte de Provence, Rosé, JL Colombo, "Côte Bleue",2012
Quick Info
FrenchSpiceMiami.com

From October 24th to November 15th, 2013