Funny, quirky, wacky, outdated or completely crazy; certain laws of Florida deserve recognition…
"Do not ignore the law," certainly, but the archaic texts in the law books combined with the law passing by the legislature make this knowledge completely Utopian. On the other hand, certain bloopers in the Florida Act, are sure to capture attention.
Welcome to Florida!
Starting with the absurd…
1. It is prohibited to see your child.
2. It is considered an offense to shower…naked.
3. Doors to all public buildings must open outwards.
4. If an elephant is tied to a parking meter…the parking must be paid!
All hail to Women's rights…
5. Unmarried women are prohibited from parachuting on Sunday or she shall risk arrest, fine and/or jail.
6. Women are not allowed to break more than three dishes per day.
7. A woman can get a ticket for falling asleep under a hair dryer.
Protect wildlife
8. Having sex with a porcupine is illegal.
9. Penalty for horse theft is death by hanging.
10. The state constitution allows for freedom of speech, a trial by jury, and pregnant pigs to not be confined in cages.
Bedroom manners
11. While having sex, only the "missionary" position is legal.
12. You may not kiss your wife's breasts.
Stop! Resist!
13. No farting in public after 6 pm.
14. Men may not be seen in public in any kind of strapless gown.
15. It is illegal to sing in public…when wearing a swimsuit!
Freshman alert!
16. It is illegal to skateboard without a license.
Local Gems
Since every county, every city can have their own regulations, this i just another chance to have more laws…all original and special in their own way!
Cape Coral
17. You may not park your truck in front of your house on the street or the driveway…Only renter's have this privileged parking.
18. Maintaining a car on your property that is no longer in use is prohibited.
Destin
19. Torpedoes may not be set off in the city
20. It is illegal for an owner of a store to allow another person to pass out free ducklings in front of the store.
21. It is illegal to sell ice cream in a cemetery.
22. It is illegal to drive on the graves in the cemetery.
23.  If you like to love to ride your bicycle in Destin, don't lean it up against a tree in a cemetery.
24. If you wish to go swimming in the ocean, get dressed in your hotel room.
Hialeah
25. Ambling and strolling is a misdemeanor.
Miami
26. It is forbidden to use a bicycle whistle.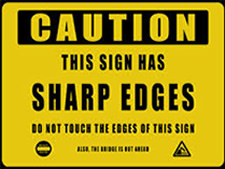 Miami Beach
27. Anyone selling oranges on the street may be punished with 30 days in jail.
Pensacola
28. Every citizen arrested in the street must have at least 10 dollars in his pocket.
29. It is illegal to roll a wheelbarrow through the streets, the amount of the fine is based on the contents of the wheelbarrow.
30. A woman can be fined (only posthumous) if she was electrocuted in the bathtub using beauty tools.
Sanford
31. Being naked on stage is prohibited except in the case of theatrical "bona fide" (in good faith, if the reasons are sincere).
Sarasota
32. If you hit a pedestrian you are fined $78.00.
Tampa
33. It is illegal to eat cottage cheese on Sundays after 6 pm
34. Women may not expose their breasts while performing "topless dancing".
35. Lap dances must be given from at least 6 feet away from the patron.

The difference between fiction and reality? Fiction has to make sense.